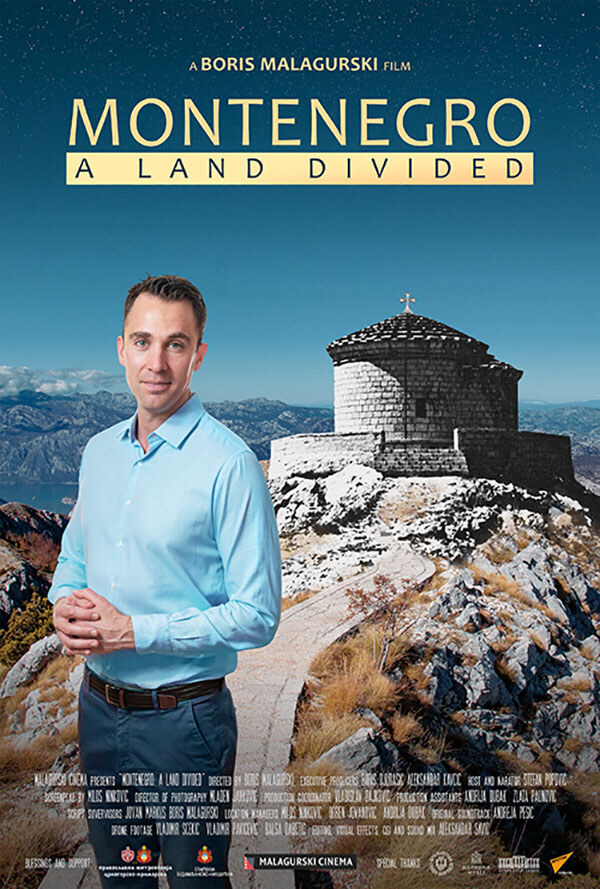 Montenegro: A Land Divided
Director: Boris Malagurski
Executive producer: Boris Djurasic, Aleksandar Kavcic
Script by: Milos Ninkovic
Host & Narrator: Stefan Popovic
Director of Photography: Mladen Jankovic
Post-production (Editing, Color Grading & Sound Mixing):
Aleksandar Savic
Animation & CGI: Aleksandar Savic
Genre: Documentary
Runtime: 79 min
Language: English, Serbian
"Montenegro: A Land Divided" is a feature documentary film by Serbian-Canadian director Boris Malagurski, filmed with the blessing of Metropolitans Amfilohije and Joanikije. The film analyzes the historical causes of social divisions in Montenegro and attempts to uncover who is profiting from the decades-long polarization. The documentary includes the last interview with Metropolitan Amfilohije, as historical footage of national significance. Montenegro's Prime Minister Zdravko Krivokapić and Justice Minister Vladimir Leposavić, as well as Academic Matija Bećković and Historian Jovan Markuš were also interviewed in the film.
Montenegro: A Land Divided
Director: Boris Malagurski
Executive producer: Boris Djurasic, Aleksandar Kavcic
Script by: Milos Ninkovic
Host & Narrator: Stefan Popovic
Director of Photography: Mladen Jankovic
Post-production (Editing, Color Grading & Sound Mixing):
Aleksandar Savic
Animation & CGI: Aleksandar Savic
Genre: Documentary
Runtime: 79 min
Language: English, Serbian
'Montenegro: A Land Divided′ is a Canadian documentary film in pre-production that will deal with an ever-growing crisis ignored by almost every mainstream media outlet — Montenegro is the newest European country with a proud history, one that is being falsified for current political purposes, thus creating an alternative identity. In a nation where it possible for two brothers to claim different ethnic backgrounds despite having the same parents, everything is on the table: language, church, democracy. Can the truth set Montenegro free?
THIS FILM HAS THE BLESSING OF METROPOLITAN AMFILOHIJE
If you'd like to donate towards the production of this film and become a contributor you may do so via PayPal by donating now:
Thank you for supporting our work
| NAME | LOCATION | AMOUNT |
| --- | --- | --- |
| Boris Djurasic | Bar, Montenegro | $27,500.00 |
| Aleksandar Kavcic | Canada | $25,000.00 |
| Dan Thomas | Unknown | $5,000.00 |
| Dragoslav Ilic | Madrid, Spain | $4,500.00 |
| Bosko Nikolic | Dubai, United Arab Emirates | $2,000.00 |
| Aleksandar Vidanovic | Unknown | $1,000.00 |
| Vladimir Udovica | Dubai, United Arab Emirates | $1,000.00 |
| Serge Todorovich | Unknown | $1,000.00 |
| Alex Machaskee | Parma, United States | $1,000.00 |
| Mitar Odza | Unknown | $700.00 |
| Michael Mihajlovic | Middleton Grange, Australia | $600.00 |
| Stefan Stojkovic | Skovlunde, Denmark | $600.00 |
| Tatjana Omanovic | Canada | $500.00 |
| Stefan Vukicevic | Unknown | $500.00 |
| Ivan Krgovic | Perth, Australia | $500.00 |
| Executive Digital LLC | North Miami, United States | $500.00 |
| Danilo Lukic | Unknown | $493.26 |
| Vladan Karadzic | Chatillon, France | $400.00 |
| Nikola Nesic | Chicago, United States | $350.00 |
| Goran Spasovski | Burnaby, Canada | $350.00 |
| Bojan Plavsic | Unknown | $333.00 |
| Danilo Aranitovic | Winterthur, Switzerland | $300.00 |
| Dragan Zec | Unknown | $300.00 |
| Veselka Ivanovic | Unknown | $300.00 |
| Djordje Djekic | Katrineholm, Sweden | $300.00 |
| Nikola Kaludjerovic | Unknown | $300.00 |
| Milos Tanasic | Dubai, United Arab Emirates | $300.00 |
| Emilija Becic | Unknown | $300.00 |
| Aleksander Vuckovic | Unknown | $300.00 |
| Nenad Mladenovic | Balga, Australia | $300.00 |
| Nedeljka Cvijetic | Unknown | $300.00 |
| Daniel Janjic | Basel, Switzerland | $300.00 |
| Lazar Gikic | Nottingham, United States | $250.00 |
| Jovan Popovic | Varsity Lakes, Australia | $250.00 |
| Porodica Urosevic | Perth, Australia | $250.00 |
| Gordana Atallah | Unknown | $240.00 |
| Mirko Peric | Unknown | $210.00 |
| Goran Gatic | FALSE | $200.00 |
| Luka Bjekovic | Unknown | $200.00 |
| Tomislav Secerov | Subotica, Serbia | $200.00 |
| Bogdan Radocaj | Darley, Australia | $200.00 |
| Darko Prica | Seligenstadt, Germany | $200.00 |
| Jovana Lakovic | Unknown | $200.00 |
| Nemanja Kovacina | Smithfield, Australia | $200.00 |
| Arsenije Nenezic | Chicago, United States | $200.00 |
| Nikola Micic | Unknown | $200.00 |
| Mile Vidovic | Rothrist, Switzerland | $200.00 |
| Stanko Vuleta | Ottawa, Canada | $200.00 |
| Stefan Licanin | Unknown | $200.00 |
| Zoran Dekic | Sydney, Australia | $200.00 |
| Milovan Urosevic | Unknown | $165.00 |
| Milos Savic | Chicago, United States | $150.00 |
| Trajko Skopelja | Unknown | $150.00 |
| Snjezana Kolar | Liverpool, Australia | $150.00 |
| Drago Kragulj | University Park, United States | $133.33 |
| Milos Urosevic | Belgrade, Serbia | $130.00 |
| Ljubisa Stamenkovic | Melbourne, Australia | $130.00 |
| Nenad Lazovic | Unknown | $125.00 |
| Nenad Markovic | Doha, Qatar | $120.56 |
| Proultima | Nis, Serbia | $120.50 |
| Vanja Vrhovac | Unknown | $120.00 |
| Milos Petrovic | Bergen, Norway | $111.11 |
| Tomislav Rakic | Unknown | $111.00 |
| Boris Jockov | Unknown | $110.94 |
| Gordana Stojanovic | Unknown | $110.00 |
| Ratomir Vicovac | Unknown | $110.00 |
| Ivana Pejatovic | Waltham, United States | $100.00 |
| Mihailo Ilic | Belgrade, Serbia | $100.00 |
| Margarita Jankovic | Surrey, Canada | $100.00 |
| Alex Jovasevic | Thornhill, Canada | $100.00 |
| Zdenko Lekan | Fort Myers, United States | $100.00 |
| Ivana Banjalic | Unknown | $100.00 |
| Marko Skuletic | Unknown | $100.00 |
| Zoran Perusina | Toronto, Canada | $100.00 |
| Vladimir Bojovic | Auckland, New Zealand | $100.00 |
| Bojana Rovchanin | Unknown | $100.00 |
| Danilo Kovacevic | Dubai, United Arab Emirates | $100.00 |
| Stanislava Curcija | Unknown | $100.00 |
| Miladin Milic | Unknown | $100.00 |
| Stefan Spasic | Sunny Isles Beach, United States | $100.00 |
| Davide Concion | Campbell, United States | $100.00 |
| Mina Pavlovic | Chicago, United States | $100.00 |
| Nenad Stojilovic | Oshkosh, United States | $100.00 |
| Daniela Bozickovic | Unknown | $100.00 |
| Aleksandar Antonic | Rumlang, Switzerland | $100.00 |
| Dragan Ivic | Unknown | $100.00 |
| Milan Antic | Kumanovo, Macedonia | $100.00 |
| Nikola Cucuk | Vancouver, Canada | $100.00 |
| Nenad Dimitrijevic | Unknown | $100.00 |
| Vukasin Jaric | Brookline, United States | $100.00 |
| Mirjana Antic | Niederhasli, Switzerland | $100.00 |
| Slavica Raffay | Unknown | $100.00 |
| Petar Dordevic | Unknown | $100.00 |
| Slavisa Predragovic | Unknown | $100.00 |
| Magdalena Adamovic | Chateaurenard, France | $100.00 |
| Dragomir Stanojevic | Unknown | $100.00 |
| Perica Jovic | Wien, Austria | $100.00 |
| Milan Milanovic | Unknown | $100.00 |
| Vuk Radovic | Unknown | $100.00 |
| Slaven Savic | Phoenix, United States | $100.00 |
| Djordje Kastratovic | Unknown | $100.00 |
| Djordje Djordjevic | Copenhagen, Denmark | $100.00 |
| Slobodan Bekvalac | Riverdale, United States | $100.00 |
| Nemanja Mrkajic | Unknown | $100.00 |
| Radan Dabetic | Unknown | $100.00 |
| Miljan Novovic | Ballerup, Denmark | $100.00 |
| MartinovicBnB | Unknown | $100.00 |
| Vlado Pjesivac | Chicago, United States | $100.00 |
| Vuk Popov | Unknown | $100.00 |
| Vladan Krstic | Chicago, United States | $100.00 |
| Mirko Grozdanic | Unknown | $100.00 |
| Milica Vukelic | Milan, Italy | $100.00 |
| Miodrag Stankovic | Gebenstorf, Switzerland | $100.00 |
| Filip Jovanovic | Unknown | $100.00 |
| Goran Obradovic | Unknown | $100.00 |
| Darko Vidovic | Wien, Austria | $100.00 |
| Vukasin Koprivica | Indian Head Park, United States | $100.00 |
| Predrag Gardasevic | Unknown | $100.00 |
| Rastko Lazic | Unknown | $100.00 |
| Jovana Kuridza | Unknown | $100.00 |
| Stevan Panov | Naperville, United States | $100.00 |
| Milan Babic | Unknown | $100.00 |
| Nenad Cvetkovic | Belgrade, Serbia | $100.00 |
| Bojana Bohinjac | Chicago, United States | $100.00 |
| Petar Sudar | Unknown | $100.00 |
| Satu Nuoramo | Malaga, Spain | $100.00 |
| Velibor Radovic | Unknown | $100.00 |
| Marko Mladenovic | Toronto, Canada | $100.00 |
| Matija Matic | Unknown | $100.00 |
| Mladen Krmpotic | Hamilton, Canada | $100.00 |
| Irina Hinrichs | Unknown | $100.00 |
| Costa Blanca Life | Unknown | $100.00 |
| Miroslav Topic | Atlanta, United States | $100.00 |
| Sasa Vranjes | Unknown | $100.00 |
| Vesna Sijan | Austin, United States | $100.00 |
| Gojko Medojevic | Unknown | $100.00 |
| Bosko Jovanovic | Unknown | $100.00 |
| Andreja Vujicic Zagar | Unknown | $100.00 |
| Natasa Gojkovic | Rykkinn, Norway | $100.00 |
| Dusan Perisic | Unknown | $100.00 |
| Amrita Blagojevic | Geneve, Switzerland | $100.00 |
| Vladimir Labudovic | Unknown | $100.00 |
| Lana Matijevic | Unknown | $100.00 |
| Pavle Milanovic | Chicago, United States | $100.00 |
| Dusan Coso | Unknown | $100.00 |
| Jelena Markovic | Toronto, Canada | $100.00 |
| Suzana Petrovic | Unknown | $100.00 |
| Nedanovski Bozin | Thunder Bay, Canada | $100.00 |
| Zeljko Kljajic | Unknown | $100.00 |
| Gordana Trifkovic | Unknown | $100.00 |
| Igor Lacic | Unknown | $100.00 |
| Aleksandar Soskic | Erlangen, Germany | $100.00 |
| Aleksandar Zivanovic | Unknown | $100.00 |
| Nikola Roganovic | Unknown | $100.00 |
| HIREQUARTERS | Unknown | $100.00 |
| Aleksandar Milicevic | Unknown | $100.00 |
| Dusko Zivkovic | Unknown | $100.00 |
| Dusica Dramicanin | Unknown | $95.54 |
| Dejan Bujak | Unknown | $90.00 |
| Strahinja Jovancevic | Belgrade, Serbia | $88.00 |
| Stevan Ordevic | Unknown | $83.00 |
| Jadranka Popic | Unknown | $80.00 |
| Vladimir Topic | Quebec city, Canada | $80.00 |
| Marko Vukmanovic | Unknown | $80.00 |
| Zdravko Dmitrovic | Unknown | $70.00 |
| Melissa Kozlina | Ashfield, Australia | $70.00 |
| Ana Stojanovic | Unknown | $70.00 |
| Boris Misic | Toronto, Canada | $70.00 |
| Nikola Hajder | Belgrade, Serbia | $63.91 |
| Martuska Vuckovac | Unknown | $60.00 |
| Radmila Jovanovic | Leoben, Austria | $60.00 |
| Goran Milovanovic | Unknown | $60.00 |
| Marko Pustinjak | Las Vegas, United States | $60.00 |
| Marko Hanifl | Unknown | $60.00 |
| Vladimir Jazic | Zrenjanin, Serbia | $55.55 |
| Ena Latinovic | Unknown | $55.00 |
| Gordana Vukasinovic | Edmonton, Canada | $55.00 |
| Bosiljka Nikic | Seven Hills, Australia | $55.00 |
| Djordje Krstic | Unknown | $50.00 |
| Nemanja Zekic | Unknown | $50.00 |
| Ivana Pendzic | Subotica, Serbia | $50.00 |
| Mirko Pejovic | Unknown | $50.00 |
| Love UnLtd | Cheltenham, Australia | $50.00 |
| Djordje Cupac | Unknown | $50.00 |
| Nikola Denic | Unknown | $50.00 |
| Danica Radovic | Belgrade, Serbia | $50.00 |
| Mladen Malbasic | Unknown | $50.00 |
| Nikola Dincic | Unknown | $50.00 |
| Viktorija Filipovic | Belgrade, Serbia | $50.00 |
| Dijana Malesevic | Wildpoldsreid, Germany | $50.00 |
| Lidija Popovic | Unknown | $50.00 |
| Vladimir Brkic | Unknown | $50.00 |
| Ozren Stojanovic | Unknown | $50.00 |
| Bojan Trivuncic | Brookfeild, United States | $50.00 |
| Aleksandar Ilic-Serafinovic | Wien, Austria | $50.00 |
| Marko Dragovic | Burnaby, Canada | $50.00 |
| Nikola Marunic | Frenkendorf, Switzerland | $50.00 |
| Darko Joksimovic | North York, Canada | $50.00 |
| Velibor Uzelac | Unknown | $50.00 |
| Marko Damjanovic | Biel, Switzerland | $50.00 |
| Bosko Grbic | Unknown | $50.00 |
| Lazar Radivojevic | Pregassona, Switzerland | $50.00 |
| Radenko Ivanovic | Lewes, United States | $50.00 |
| Dorde Karadzic | Unknown | $50.00 |
| Jelena Dordevic | Narberth, United Kingdom | $50.00 |
| Dusko Lazendic | Unknown | $50.00 |
| Oliver Josanovic | Unknown | $50.00 |
| Sasa Lekovic | Unknown | $50.00 |
| Bojan Gligorevic | New Holland, United States | $50.00 |
| Dragan Obrenovic | Unknown | $50.00 |
| VIP Charter Vehicles | Bedford, Australia | $50.00 |
| Aleksandar Veselinovic | Unknown | $50.00 |
| Sinisa Mandic | Trophy Club, United States | $50.00 |
| Jelena Dokic | Unknown | $50.00 |
| Aleksandar Otasevic | Sherman Oaks, United States | $50.00 |
| Zivko Tatalovic | Unknown | $50.00 |
| Olgica Aleksic | Unknown | $50.00 |
| Ivan Vlaovic | Buchs, Switzerland | $50.00 |
| Dusan Kocic | Unknown | $50.00 |
| Verica Mrkajic | Kitchener, Canada | $50.00 |
| Uros Kostic | Unknown | $50.00 |
| Bojan Stupar | Wood Dale, United States | $50.00 |
| Ana Zecevic | Unknown | $50.00 |
| Zarko Pecanac | Two Rivers, United States | $50.00 |
| Milo Dubak | Unknown | $50.00 |
| Sinisa Kos | Cecil Hills, Australia | $50.00 |
| Goran Vukic | Unknown | $50.00 |
| Natasha Uzelac | Sydney, Australia | $50.00 |
| Nenad Savuljic | Unknown | $50.00 |
| Srdjan Stefanovic | Frankfurt, Germany | $50.00 |
| Zivko Terzic | Unknown | $50.00 |
| Nikola Uzelac Okuka | Quebec city, Canada | $50.00 |
| Dejan Milosavljevic | Caslano, Switzerland | $50.00 |
| Tomica Rafai | Unknown | $50.00 |
| Drazenko Besir | Stockholm, Sweden | $50.00 |
| Milan Cabarkapa | Unknown | $50.00 |
| M Brason | London, United Kingdom | $50.00 |
| Mina Jovanic | Unknown | $50.00 |
| Goran Rakic | Vikingstad, Sweden | $50.00 |
| Tijana Nikov | Jupiter, United States | $50.00 |
| Nikola Petronijevic | Oslo, Norway | $50.00 |
| Anonimna Donacija | Unknown | $50.00 |
| Nada Sanjic | Frankfurt, Germany | $50.00 |
| Suzana Grabovac | Unknown | $50.00 |
| Sanja Dokic Mrsa | Banja Luka, Bosnia and Herzegovina | $50.00 |
| Bojan Strbanovic | Unknown | $50.00 |
| Aleksandar Prodan | Unknown | $50.00 |
| Anita Belosevic | Willowbrook, United States | $50.00 |
| Aleksandar Frzovic | Unknown | $50.00 |
| Darko Cvijetinovic | Wien, Austria | $50.00 |
| Grozdana Boskovic | Unknown | $50.00 |
| Mladjan Stojanovic | Canley Vale, Australia | $50.00 |
| Miodrag Zselezny | Unknown | $50.00 |
| Dragisa Stanimirovic | Unknown | $50.00 |
| Romana Jandrijevic | Burnaby, Canada | $50.00 |
| Boris Zec | Unknown | $50.00 |
| Srba Stojkovic | Unknown | $50.00 |
| Dragoslav Vugdelija | Subotica, Serbia | $50.00 |
| Ljubisa Punosevac | Unknown | $50.00 |
| Zeljana Bilic | Unknown | $50.00 |
| Branislav Popovic | Indjija, Serbia | $50.00 |
| Aleksandar Markovic | Baden, Switzerland | $50.00 |
| Faisal Othman | Abu Dhabi, United Arab Emirates | $50.00 |
| Stjepan Strancaric | Nurnberg, Germany | $50.00 |
| Sofka Trajcevska | Unknown | $50.00 |
| Veljko Gutic | Indjija, Serbia | $50.00 |
| IG Design | Kraljevo, Serbia | $50.00 |
| Sanja Giljen | Unknown | $50.00 |
| Katarina Kelovic | Munchen, Germany | $50.00 |
| Radovan Markovic | Unknown | $50.00 |
| Nikola Dakic | Temerin, Serbia | $50.00 |
| Branka Suvajac | St. Gallen, Switzerland | $50.00 |
| Nereo Nikola Dragisic | Unknown | $47.74 |
| Stefan Simic | Belgrade, Serbia | $47.00 |
| Marijana Veljovic | Kragujevac, Serbia | $44.00 |
| Uros Pavlovic | Mladenovac, Serbia | $43.73 |
| Ana Djotunovic | Obrenovac, Serbia | $40.00 |
| Oliver Radosavljevic | St. Gallen, Switzerland | $40.00 |
| Boban Joksimovic | Unknown | $40.00 |
| Ivana Kovacevic | Oulu, Finland | $40.00 |
| Drasko Kos | Unknown | $40.00 |
| Zarko Bucic | Unknown | $40.00 |
| Gordan Babic | Toronto, Canada | $40.00 |
| Marko Kovacevic | Loznica, Serbia | $40.00 |
| Sascha Sundac | Schwenningen, Germany | $40.00 |
| Dragana Krstic | Belgrade, Serbia | $40.00 |
| Nenad Sparic | Belgrade, Serbia | $40.00 |
| Milan Cirovic | Unknown | $39.09 |
| Stefan Srdic | Unknown | $38.22 |
| Dejana Musovic | Regensburg, Germany | $35.00 |
| Milos Vucinic | Unknown | $35.00 |
| Mitar Kovacevic | Unknown | $35.00 |
| Gojko Baosic | Antwerpen, Belgium | $35.00 |
| Boris Sekulic | Thessaloniki, Greece | $33.33 |
| Marko Pavlovic | Unknown | $32.96 |
| Aleksandar Raketic | Graben-Neudorf, Germany | $30.00 |
| Vujica Markovic | Osecina, Serbia | $30.00 |
| Bojan Nikic | Quakers Hill, Australia | $30.00 |
| Rasko Ristic | Unknown | $30.00 |
| David Gagic | Unknown | $30.00 |
| Dragana Bjelan | Vallingby, Sweden | $30.00 |
| Daniel Manander | Malmo, Sweden | $30.00 |
| Dragoljub Pejatovic | Unknown | $30.00 |
| Angela Angelovski | Unknown | $30.00 |
| Dragana Petrovic | Dubendorf, Switzerland | $30.00 |
| Zorica Langof | Unknown | $30.00 |
| Milan Agatonovic | Dorset, United Kingdom | $30.00 |
| Vanja Jovanic | Basel, Switzerland | $30.00 |
| Marko Trifunovich | Unknown | $30.00 |
| Nikola Brajovic | Chicago, United States | $30.00 |
| Sladjana Vojcic | Unknown | $30.00 |
| PFOTE & HAND -Hundeschule | Unknown | $30.00 |
| Boris Gavrilov | Koln, Germany | $30.00 |
| Branko Kalinic | Unknown | $30.00 |
| Vojo Simic | Wien, Austria | $30.00 |
| Veselin Makocevic | Unknown | $30.00 |
| Stanko Radumilo | Unknown | $30.00 |
| Valentina Jakic | Unknown | $30.00 |
| Marko Katanic | Mamer, Luxembourg | $30.00 |
| Zoran Gasic | Unknown | $30.00 |
| Marko Mitic | Belgrade, Serbia | $30.00 |
| Goran Susa | Unknown | $30.00 |
| Isidora Jovic | Berlin, Germany | $30.00 |
| Rados Acimovic | Unknown | $30.00 |
| Miroslav Djurich | Unknown | $30.00 |
| Nada Kovacevic | Niksic, Montenegro | $30.00 |
| Milivoj Tofil | Unknown | $30.00 |
| Milos Andrejic | Unknown | $30.00 |
| Rade Maksimovic | Belgrade, Serbia | $30.00 |
| Nikola Uzelac | Unknown | $30.00 |
| Milan Lazic | Unknown | $30.00 |
| Branko Latinkic | Unknown | $30.00 |
| Mladen Radakovic | Fort Myers, United States | $30.00 |
| Ruby Ivancevich | Unknown | $30.00 |
| Zoran Nisavic | Plano, United States | $30.00 |
| Slobodan Kovacevic | Unknown | $30.00 |
| Dragan Dordevic | Atlanta, United States | $30.00 |
| Jovana Petkovic | Unknown | $30.00 |
| Jovana Radulovic | Belgrade, Serbia | $27.87 |
| Oliver Provic | Ehingen, Germany | $26.55 |
| Slobodan Djordjevic | Unknown | $25.00 |
| Zlatko lukic | Unknown | $25.00 |
| Predrag Pecic | Unknown | $25.00 |
| Nela Dasic | Volketswill, Switzerland | $25.00 |
| David Pavlovic | Unknown | $25.00 |
| Slobodanka Petrovic | Tallmadge, United States | $25.00 |
| Anica Jovicic | Unknown | $25.00 |
| Igor Bajic | Munchen, Germany | $25.00 |
| Milutin Culibrk | Unknown | $25.00 |
| Danilo Kurdulija | Belgrade, Serbia | $25.00 |
| Marija Drakulovic | Unknown | $25.00 |
| Stefan Mazic | Belgrade, Serbia | $25.00 |
| Filip Ilic | Unknown | $25.00 |
| Dragan Golo | Unknown | $25.00 |
| Branko Bratic | Parma, Italy | $25.00 |
| Milos Petrovic | Unknown | $25.00 |
| Christian Trnka | Wien, Austria | $25.00 |
| Nenad Boskovic | Unknown | $25.00 |
| Branislav Dubocanin | Unknown | $25.00 |
| Tanja Josipovic | Unknown | $25.00 |
| Ivan Milosavljevic | Lyons, United States | $25.00 |
| Bratislav Radovanovic | Unknown | $23.00 |
| Milos Radovanovic | Unknown | $23.00 |
| Nemanja Jovanovic | Unknown | $22.50 |
| Stefan Ordevic | Unknown | $22.45 |
| Natalija Stupar | Nurnberg, Germany | $22.00 |
| Adelija Nikcevic | Nurnberg, Germany | $22.00 |
| ZdingerKa | Unknown | $21.50 |
| Danijel Kovacevic | Wien, Austria | $21.30 |
| Milan Zunic | Unknown | $20.50 |
| Danilo Bojovic | Amstetten, Austria | $20.20 |
| Ryan Radusinovic | Downey, United States | $20.00 |
| Tea Cvijic | Wien, Austria | $20.00 |
| Ivana Milosavljevic | Oberglatt, Switzerland | $20.00 |
| Sasa Vuksanovic | Unknown | $20.00 |
| Vladimir Bankovic | Belgrade, Serbia | $20.00 |
| Vanja Popovic | Unknown | $20.00 |
| Daniel Gajic | Bagneux, France | $20.00 |
| Bosko Kojadinovic | Unknown | $20.00 |
| Aleksandar Vujosevic | Kitchener, Canada | $20.00 |
| Milica Lazarevic | Wien, Austria | $20.00 |
| Zsolt Elezsdi | Munderkingen, Germany | $20.00 |
| Predrag Kutic | Unknown | $20.00 |
| Marko Urosevic | Renningen, Germany | $20.00 |
| Marko Borovac | Unknown | $20.00 |
| Radenko Jercic | Klagenfurt, Austria | $20.00 |
| Jelena Lazic | Unknown | $20.00 |
| Lazar Obradovic | Unknown | $20.00 |
| Snezana & Mirko Mirkovic | Cacak, Serbia | $20.00 |
| Aleksandar Jovic | Unknown | $20.00 |
| Stefan Jovicic | Unknown | $20.00 |
| Bril | Lawrenceville, United States | $20.00 |
| Stevan Popovic | Unknown | $20.00 |
| Dusan Alempijevic | Unknown | $20.00 |
| Milorad Bulatovic | Banja Luka, Bosnia and Herzegovina | $20.00 |
| Mirjana Popovic | Unknown | $20.00 |
| Nikola Vukojevic | Unknown | $20.00 |
| Miro Markovic | Unknown | $20.00 |
| Marija Duronjic | Unknown | $20.00 |
| Milena Stefanovich | Chicago, United States | $20.00 |
| Miroslav Matic | Unknown | $20.00 |
| Erica Tomkinson | Unknown | $20.00 |
| Srecko Sofranko | Mammendorf, Germany | $20.00 |
| Ranko Bursac | Unknown | $20.00 |
| Radomir Carapic | Toronto, Canada | $20.00 |
| Milivoje Kojadinovic | Unknown | $20.00 |
| Mitar Simic | Unknown | $20.00 |
| Mileta Rondovic | Chicago, United States | $20.00 |
| Marija Katic | Unknown | $20.00 |
| Pedicab Ride | Chicago, United States | $20.00 |
| Milena Zlatanovic | Unknown | $20.00 |
| Marijana Zivkovic | Frankfurt, Germany | $20.00 |
| Stevan Cosovic | Unknown | $20.00 |
| David Mrad | Unknown | $20.00 |
| Filip Velichkovikj | Unknown | $20.00 |
| Clothes Selling | New York, United States | $20.00 |
| Stefan Zepinic | Banja Luka, Bosnia and Herzegovina | $20.00 |
| Eftihia Bogris | Unknown | $20.00 |
| Nicic Nenad | Unknown | $20.00 |
| Boban Ilic | Henstedt-Ulzburg, Germany | $20.00 |
| Vladimir Stanisic | Unknown | $20.00 |
| Emilija Dragicevic | Unknown | $20.00 |
| Stojanka Milojkovic | Walnut Creek, United States | $20.00 |
| Vladana Kovacevic | Unknown | $20.00 |
| Filip Petrovic | Unknown | $20.00 |
| Nenad Jovanovikj | Willowbrook, United States | $20.00 |
| EuroConsultOne GmbH | Bad Orb, Germany | $20.00 |
| Sava Petrovic | Unknown | $20.00 |
| Nenad Lukic | Unknown | $20.00 |
| Vladimir Srdic | Bordeaux, France | $20.00 |
| Gavrilo Prodanovic | Prnjavor, Bosnia and Herzegovina | $20.00 |
| Goran Vrkes | Unknown | $20.00 |
| Marijana Bilic | Monterey, Australia | $20.00 |
| Alenka Prokopic | Unknown | $20.00 |
| Nikola Rakic | Berlin, Germany | $20.00 |
| Jelena Stankovic | Unknown | $20.00 |
| Marko Lisica | Titel, Serbia | $20.00 |
| Ratko Adzic | Niksic, Montenegro | $20.00 |
| Nenad Despotovic | Unknown | $20.00 |
| Nenad Tesovic | Belgrade, Serbia | $20.00 |
| Sergej Cvijetic | Unknown | $20.00 |
| Marko Nikola Ristic | Unknown | $20.00 |
| Milan Gocic | Unknown | $20.00 |
| Marko Lekic | Hallandale Beach, United States | $20.00 |
| Igor Kovacevic | Unknown | $20.00 |
| Nenad Grujicic | Hialeah, United States | $20.00 |
| Vanja Bozic | Unknown | $20.00 |
| Nevena Djuric | Narre Warren North, Australia | $20.00 |
| Milovan Spasic | Unknown | $20.00 |
| Ognjen Milicevic | Unknown | $20.00 |
| Lazar Todic | Unknown | $20.00 |
| Jelena Milenovic | Toronto, Canada | $20.00 |
| Teodor Radosavljevic | Unknown | $20.00 |
| Aleksandar Dragojevic | Nurnberg, Germany | $20.00 |
| Rade Inic | Unknown | $20.00 |
| Stefan Milosavljevic | Wallisellen, Switzerland | $20.00 |
| Milos Protic | Unknown | $20.00 |
| Ankica Mickovic | Skopje, Macedonia | $20.00 |
| Kordun Ilic | West Chester, United States | $20.00 |
| Zsana Mededovic | Flensburg, Germany | $20.00 |
| Aleksandar Djordjevic | Miami Beach, United States | $20.00 |
| Nina Ivanovic | Unknown | $20.00 |
| Miodrag Stojanovic | Belgrade, Serbia | $20.00 |
| Marko Simin | Unknown | $20.00 |
| Igor Miokovic | London, United Kingdom | $20.00 |
| Damjan Dosen | Unknown | $20.00 |
| Marco Milovanovic | Hamburg, Germany | $20.00 |
| Marko Mitic | Unknown | $20.00 |
| Rade Cetkovic | Chicago, United States | $20.00 |
| Borislav Ivanovic | Unknown | $20.00 |
| Sasa Jovanovic | Unknown | $20.00 |
| Zoran Milisavljevic | Unknown | $20.00 |
| Goran Bozickovic | Montreal, Canada | $20.00 |
| Dusan Ivanic | Belgrade, Serbia | $20.00 |
| Grujo Pejakovic | Unknown | $20.00 |
| Marko Misic | Wien, Austria | $20.00 |
| Dusan Sijakov | Unknown | $20.00 |
| Uros Mitrovic | Unknown | $20.00 |
| URED Studio | Belgrade, Serbia | $20.00 |
| Ilija Dakonovic | Unknown | $20.00 |
| Aleksandar Sarcevic | Nantucket, United States | $20.00 |
| Milos Savic | Hurth, Germany | $20.00 |
| Dejan Potkonjak | Buchiweg, Switzerland | $20.00 |
| Sasa Prokic | Unknown | $20.00 |
| Milan Cvetkovic | Unknown | $20.00 |
| Zeljka Danilovic | Bobenheim-Roxheim, Germany | $20.00 |
| Slavica Kuzmanovic | Unknown | $20.00 |
| Zdravko Markovic | Gustavsburg, Germany | $20.00 |
| Aleksandar Mitic | Maribor, Slovenia | $20.00 |
| Sibin Petrovic | Zurich, Switzerland | $20.00 |
| Irena Markijevic | Unknown | $20.00 |
| Darijan Gajic | Steinbach, Germany | $20.00 |
| Martin Pavlovski | Kumanovo, Macedonia | $20.00 |
| Mladen Jokanovic | Unknown | $20.00 |
| Boris Knezevic | Unknown | $20.00 |
| Djurdjica Ratkov | Toronto, Canada | $20.00 |
| Vesna Sredojevic | Unknown | $20.00 |
| Djurdjija Cvetic | Unknown | $19.11 |
| Stefan Obrenic | Cacak, Serbia | $18.00 |
| Bor Breber | Unknown | $18.00 |
| Nikola Jovanovic | Unknown | $16.27 |
| Marko Kovrlija | Unknown | $16.00 |
| Milica Urosevic | Unknown | $16.00 |
| Sanda Govnojedovic | Unknown | $16.00 |
| Stefan Radojicic | Arandjelovac, Serbia | $15.00 |
| Ivana Ilzarbe | Urrugne, France | $15.00 |
| Mario Aldic | Korneuburg, Austria | $15.00 |
| Milos Stankic | Brcko, Bosnia and Herzegovina | $15.00 |
| Tatjana Mladenovic | Unknown | $15.00 |
| Kristijan Radisic | Schio, Italy | $15.00 |
| Goran Poletanovic | Futog, Serbia | $15.00 |
| Vujica Neskovic | Unknown | $15.00 |
| Ljiljana Kalinovic | Toronto, Canada | $15.00 |
| Slobodan Miljatovic | Unknown | $15.00 |
| Andjelko Kuckovic | Hamilton, Canada | $15.00 |
| Vladimir Popic | Unknown | $15.00 |
| Alex Nikolic | London, Canada | $15.00 |
| Aleksandar Petrovik | Mississauga, Canada | $15.00 |
| Vladimir Stefanovic | Cacak, Serbia | $15.00 |
| Dusan Cajic | Unknown | $15.00 |
| Slavica Hell | Wien, Austria | $15.00 |
| Ivan Lukic | Wurzburg, Germany | $15.00 |
| Mara Mijatovic | Unknown | $15.00 |
| Sanja Ahmetovic | London, United Kingdom | $15.00 |
| Miodrag Jovanovic | Unknown | $15.00 |
| Dusan Stankovic | Zrenjanin, Serbia | $15.00 |
| Jasmina Aspra | Graz, Austria | $15.00 |
| Mina Bodiroga | Unknown | $15.00 |
| Sasa Radulovic | Unknown | $15.00 |
| Adam Scevko | Karlova Ves, Slovakia | $15.00 |
| Sandra Djoric | Wadenswill, Switzerland | $15.00 |
| Luka Jakovljevic | Unknown | $15.00 |
| Marko Djordjevic | Nis, Serbia | $14.00 |
| Marina Stefanov | Gold Coast, Australia | $14.00 |
| Dejan Dzamic | Belgrade, Serbia | $14.00 |
| Aleksa Dosan | Ajdovscina, Slovenia | $14.00 |
| InfoFix | Unknown | $13.00 |
| Branka B | Unknown | $12.41 |
| Rajko Adamovic | Heilbronn, Germany | $12.00 |
| Oliver Hardi | Belgrade, Serbia | $12.00 |
| Mihajlo Milosavljevic | Bristol, United Kingdom | $12.00 |
| Daniel Todorovic | Samac, Bosnia and Herzegovina | $12.00 |
| Darko Blagojevic | Munchen, Germany | $11.00 |
| Uros Bogdanovic | Usti Nad Orlico, Czech Republic | $11.00 |
| Milos Knezevic | Kotor, Montenegro | $11.00 |
| Nikola Medjuric | Turija, Serbia | $11.00 |
| Simo Kilibarda | Herceg Novi, Montenegro | $11.00 |
| Nemanja Stevanovic | Barajevo, Serbia | $11.00 |
| Slavica Cvijic | Unknown | $10.10 |
| Tripko Milovic | Niksic, Montenegro | $10.10 |
| Rade Jovanovic | Unknown | $10.00 |
| Zoran Stanojevic | Unknown | $10.00 |
| Joao Ferreira | Santa Barbara, Portugal | $10.00 |
| Aleksandar Vinulovic | Unknown | $10.00 |
| Nemanja Sarajlija | Unknown | $10.00 |
| Vladimir Korac | Berglen, Germany | $10.00 |
| Ilija Djakonovic | Unknown | $10.00 |
| Branislav Milutinovic | Zurich, Switzerland | $10.00 |
| Danijel Grujic | Trnovo, Bosnia and Herzegovina | $10.00 |
| Nikola Matic | Unknown | $10.00 |
| Edi Ibraimovic | Unknown | $10.00 |
| Julian Dauner | Laugna, Germany | $10.00 |
| Nikola Dragovic | Unknown | $10.00 |
| Nikola Dameski | Unknown | $10.00 |
| Nikola Panic | Munchen, Germany | $10.00 |
| Nikola Donevski | Unknown | $10.00 |
| Kristina Vukovic | Dublin, Ireland | $10.00 |
| Mark Markovic | Unknown | $10.00 |
| Stefan Mitrovic | Belgrade, Serbia | $10.00 |
| Kristina Antic | Unknown | $10.00 |
| Radovan Novovic | Unknown | $10.00 |
| Aleksa Andjelovic | Bor, Serbia | $10.00 |
| Ivana Cizmic | Unknown | $10.00 |
| Ivan Karapandzic | Uzice, Serbia | $10.00 |
| Kristofer Bojkovic | Unknown | $10.00 |
| Aleksa Vujovic | Unknown | $10.00 |
| Aleksandar Arsovic | Frankfurt, Germany | $10.00 |
| Chrysoula Kyrgialani | Unknown | $10.00 |
| Ivan Zdravkovic | Unknown | $10.00 |
| Dragomir Popovic | Sentjernej, Slovenia | $10.00 |
| Stevan Savic | Unknown | $10.00 |
| Nikola Crnogorac | Zvornik, Bosnia and Herzegovina | $10.00 |
| Petar Matijasevic | Unknown | $10.00 |
| Vuk Vukovic | Spreitenbach, Switzerland | $10.00 |
| Jovan Bunjevacki | Belgrade, Serbia | $10.00 |
| Four Nordic Group AB | Unknown | $10.00 |
| Petar Stancic | Salzburg, Austria | $10.00 |
| Adam Manojlovic | Unknown | $10.00 |
| Dragan Marjanovic | Unknown | $10.00 |
| Oliver Revid | Unknown | $10.00 |
| Aleksandar Scekic | Berlin, Germany | $10.00 |
| Maksim Dragic | Wien, Austria | $10.00 |
| Bojan Saric | Unknown | $10.00 |
| Maja Vatic | Dublin, Ireland | $10.00 |
| Nikola Lalevic | Unknown | $10.00 |
| Nikola Rajak | Monash, Australia | $10.00 |
| Dusko Yovich | Unknown | $10.00 |
| Zeljo Milanovic | Unknown | $10.00 |
| Nemanja Nedeljkovic | Unknown | $10.00 |
| Natasa Gledic Skoric | Belgrade, Serbia | $10.00 |
| Stevan Vulic | Unknown | $10.00 |
| Launchmee | Unknown | $10.00 |
| Vladimir Beska | Malacky, Slovakia | $10.00 |
| ?????? ??????? | Unknown | $10.00 |
| Dragana Drljacic | Sabac, Serbia | $10.00 |
| Djuro Petrovic | Helsingborg, Sweden | $10.00 |
| Dejan Martinovic | Unknown | $10.00 |
| Jovana Aradski | Unknown | $10.00 |
| Srdjan Grabovac | Banja Luka, Bosnia and Herzegovina | $10.00 |
| Sarezza | Unknown | $10.00 |
| Milan Knezevic | Belgrade, Serbia | $10.00 |
| Milica Djukic | Belgrade, Serbia | $10.00 |
| Cirica Goran | Soltau, Germany | $10.00 |
| Dusan Krtinic | Unknown | $10.00 |
| Snezana Jevremovic | Krusevac, Serbia | $10.00 |
| Miso Grahovac | Unknown | $10.00 |
| Miodrag Ciganovic | Senta, Serbia | $10.00 |
| Petar Tanasic | Wien, Austria | $10.00 |
| Miodrag Ivanovic | Belgrade, Serbia | $10.00 |
| The Competent Baker | Unknown | $10.00 |
| Darko Kosic | Unknown | $10.00 |
| Milan Scepanovic | Hamar, Norway | $10.00 |
| Radovan Radovic | Unknown | $10.00 |
| Aleksandra Dragutinovic | Kotor, Montenegro | $10.00 |
| Petar Neskovic | Ub, Serbia | $10.00 |
| Zoran Perisic | ST.Teath, United Kingdom | $10.00 |
| Radovan Mikic | Unknown | $10.00 |
| Tatjana Davila | Auckland, New Zealand | $10.00 |
| Goran Sibinovic | Wien, Austria | $10.00 |
| Katarina Godic | Boljevci, Serbia | $10.00 |
| Dragan Mijatovic | Unknown | $10.00 |
| Katarina1974 | Sweden, Stockholm | $10.00 |
| Djordje Radovanovic | Unknown | $10.00 |
| Darko Trencev | Unknown | $10.00 |
| Radomir Tomic | Unknown | $10.00 |
| Zoran Filipovic | Neuilly sur Seine, France | $10.00 |
| Milan Zugic | Unknown | $10.00 |
| Alexander Zeljic | Unknown | $10.00 |
| Aleksandar Damjanovic | Unknown | $10.00 |
| Zoran Romic | Bonnyrigg Heights, Australia | $10.00 |
| Djordjo Simic | Unknown | $10.00 |
| Ognjen Damljanovic | Unknown | $10.00 |
| Nemanja Maric | Prnjavor, Bosnia and Herzegovina | $10.00 |
| Njegos Jevtovic | Unknown | $10.00 |
| Darko Popovic | Wien, Austria | $10.00 |
| Igor Krsmanovic | Unknown | $10.00 |
| Boban Stankovic | Unknown | $10.00 |
| Biljana Harvey | Cleveland, United States | $10.00 |
| Vera Weidenbach | Unknown | $10.00 |
| Charles Hess | Unknown | $10.00 |
| Mirko Kirovic | Unknown | $10.00 |
| Branislav Popovic | Banja Luka, Bosnia and Herzegovina | $10.00 |
| Momcilo Vukovic | Unknown | $10.00 |
| Bojana Vasiljevic | Loznica, Serbia | $10.00 |
| Danijel Milivojevic | Unknown | $10.00 |
| Dejan Lutovac | Unknown | $10.00 |
| Momcilo Bogovac | Temerin, Serbia | $10.00 |
| Stefan Todorovic | Unknown | $10.00 |
| Dorde Tosic | Unknown | $10.00 |
| Milos Jovanovic | Wien, Austria | $10.00 |
| Oliver Dimitrijevic | Unknown | $10.00 |
| Dejan Krunic | Unknown | $10.00 |
| Nenad Markovic | Brampton, Canada | $10.00 |
| Martin Bilek | Unknown | $10.00 |
| Boba Rajakovic | Unknown | $10.00 |
| Stefana Drasko | Unknown | $10.00 |
| Marko Veselinovic | Moscow, Russia | $10.00 |
| Milos Dosen | Unknown | $10.00 |
| Bosko Sretic | Camberley, United Kingdom | $10.00 |
| Nebojsa Jorgic | Unknown | $10.00 |
| Savo Delic | Amstelveen, Netherlands | $10.00 |
| GVS Commerce | Unknown | $10.00 |
| Mihailo Dordevic | Flateby, Norway | $10.00 |
| Marko Maljkovic | Unknown | $10.00 |
| Milica Cuskic | Victoria, Malta | $10.00 |
| Mihailo Mucibabic | Unknown | $10.00 |
| Nikolette Jakovac | Unknown | $10.00 |
| Milos Savic | Unknown | $10.00 |
| Jovana Stolica | Belgrade, Serbia | $10.00 |
| Sanja Kujundzic | Unknown | $10.00 |
| Marko Zoric | Unknown | $10.00 |
| Rada Danilovic | Unknown | $10.00 |
| Aleksandar Milosevic | Unknown | $10.00 |
| Marko Glisovic | Zurich, Switzerland | $10.00 |
| Andrej Perkovic | Unknown | $10.00 |
| Marko Vuckovic | Unknown | $10.00 |
| Sanja Sucevic | Unknown | $10.00 |
| Janko Urbanek | Leek, United Kingdom | $10.00 |
| Alexandra Mitic | Unknown | $10.00 |
| Miomir Todorovic | Unknown | $10.00 |
| Daniela Kuhn | Unknown | $10.00 |
| Natasa Stankovic | Grocka, Serbia | $10.00 |
| Slavko Savic | Unknown | $10.00 |
| Miodrag Jankovic | Unknown | $10.00 |
| Milka Ivanisevic | Unknown | $10.00 |
| Daniela Jankovic | Wien, Austria | $10.00 |
| Stefan Glavonjic | Unknown | $10.00 |
| Raviojla Adzaip | Traun, Austria | $10.00 |
| Zivko Novitovic | Belgrade, Serbia | $10.00 |
| Dragan Krunic | Unknown | $10.00 |
| Ratko Sobot | Braybrook, Australia | $10.00 |
| Sebastian Novak | Unknown | $10.00 |
| Energy Trading Team LLC | Unknown | $10.00 |
| Daniel Ivanovic | Boblingen, Germany | $10.00 |
| Boban Butric | Unknown | $10.00 |
| Daniel Prodanovic | Unknown | $10.00 |
| Blvd 64 | Vineyard Haven, United States | $10.00 |
| Djordje Ungar | Unknown | $10.00 |
| Aleksandar Bajic | Banja Luka, Bosnia and Herzegovina | $10.00 |
| Jelena Lukic | Unknown | $10.00 |
| Miroslav Mrdjan | Divos, Serbia | $10.00 |
| Milena Antovic | Unknown | $10.00 |
| Aleksandar Basic | Unknown | $10.00 |
| Luka Secerovic | Unknown | $10.00 |
| Ranko Nenezic | Niksic, Montenegro | $10.00 |
| Nemanja Kostic | Unknown | $10.00 |
| Marko Radanovic | Unknown | $10.00 |
| Ljubisa Tesanovic | Doboj, Bosnia and Herzegovina | $10.00 |
| Jelena Cetkovic | Unknown | $10.00 |
| Marko Stojicevic | Wien, Austria | $10.00 |
| Nastassija Wiertek | Unknown | $10.00 |
| Dobrivoje Zebic | Toronto, Canada | $10.00 |
| Forever Aloe Shop | Luxembourg | $10.00 |
| Nemanja Plotan | Unknown | $10.00 |
| Zeljka Vujicic | Stockholm, Sweden | $10.00 |
| Dobrica Stojanovic | Unknown | $10.00 |
| Goran Knezevic | Podcetrtek, Slovenia | $10.00 |
| Bratislav Stevanovic | Unknown | $10.00 |
| Bratislav Garcic | Muscat, Oman | $10.00 |
| Zeljko Davidovic | Kraljevo, Serbia | $10.00 |
| Sasa Svircev | Unknown | $10.00 |
| Nebojsa Gajic | Wien, Austria | $10.00 |
| Vlad Lungu | Unknown | $10.00 |
| Stefan-Milos Subotic | Unknown | $10.00 |
| Stefan Ivanisevic | Unknown | $9.99 |
| Anastasija Covic | Unknown | $9.90 |
| Natasa Dosen | Dorridge, United Kingdom | $9.89 |
| Marko Stojanovic | Unknown | $7.55 |
| Natalija Stosic | Unknown | $7.00 |
| Milan Bubalo | Xlendi,Malta | $7.00 |
| Marko Palangetic | Unknown | $7.00 |
| Dan Todic | Unknown | $7.00 |
| Miljan Radulovic | Dromana, Australia | $7.00 |
| Dusan Minic | Unknown | $7.00 |
| Vedran Vojnovic | Unknown | $6.29 |
| Branko Gajanin | Prnjavor, Bosnia and Herzegovina | $6.00 |
| Rade Stevanovic | Ljubljana, Slovenia | $6.00 |
| Mladen Zeljkovic | Metlika, Slovenia | $6.00 |
| Marko Stojkovic | Unknown | $5.55 |
| Sanja Radonjic | Unknown | $5.20 |
| Damjan Bulatovic | Marsaskala, Malta | $5.01 |
| Nikola Kuduz | Brewster, United States | $5.00 |
| Igor Milos | Carolina, United States | $5.00 |
| Darko Pocanic | Unknown | $5.00 |
| Dejan Babic | Unknown | $5.00 |
| Neda Mihajlovic | Kakmuz Petrovo, Bosnia and Herzegovina | $5.00 |
| Bojan Gajdasevic | Unknown | $5.00 |
| Filip Stankovic | Unknown | $5.00 |
| Dee Jay Dixon | Unknown | $5.00 |
| Rasa Mladenovic | Belgrade, Serbia | $5.00 |
| Jadran Savic | Adler, Canada | $5.00 |
| Milos Novcic | Unknown | $5.00 |
| Ugljesa Radulovic | Edelweiss Springs, South Africa | $5.00 |
| Nikola Cancarevic | Unknown | $5.00 |
| Stefan Vuckovic | Unknown | $5.00 |
| Dejan Trajkov | Unknown | $5.00 |
| Zoran Milanovic | Bromhof, South Africa | $5.00 |
| Marko Radovanovic | Unknown | $5.00 |
| Luka Jovancevic | Cacak, Serbia | $5.00 |
| Mihailo Radovanovic | Unknown | $5.00 |
| Bojan Bojic | Unknown | $5.00 |
| Bojan Redzepovic | Trstenik, Serbia | $5.00 |
| Zarko Jovanovic | Unknown | $5.00 |
| Branka Stanic | Kozarska Dubica, Bosnia and Herzegovina | $5.00 |
| Lazar Radivojevic | Unknown | $5.00 |
| Nemanja Jeremic | Nis, Serbia | $5.00 |
| Damir Ovcin | Unknown | $5.00 |
| Marko Zlatkovic | Munchen, Germany | $5.00 |
| Nenad Andjelkovic | Unknown | $5.00 |
| Krsto Minic | Niksic, Montenegro | $5.00 |
| Nebojsa Butina | Belgrade, Serbia | $5.00 |
| Dejan Milkovic | Unknown | $5.00 |
| Nemanja Djalic | Novi Sad, Serbia | $5.00 |
| Bosko Ivanisevic | Unknown | $5.00 |
| Uros Tasin | Unknown | $5.00 |
| Branko Atanackovic | Zrenjanin, Serbia | $5.00 |
| Stanislav Rankovic | Unknown | $5.00 |
| Aleksandra Sladojevic Trkulja | Unknown | $5.00 |
| Nebojsa Gutic | Unknown | $5.00 |
| Stefan Stanimirovic | Unknown | $5.00 |
| Mladen Radic | Unknown | $5.00 |
| Bojan Sobo | Unknown | $5.00 |
| Predrag Bakic | Unknown | $5.00 |
| Boris Kosoric | Unknown | $5.00 |
| Zeljko Milicevic | Unknown | $5.00 |
| Milan Kesic | Unknown | $5.00 |
| Sasa Tepsic | Unknown | $5.00 |
| Vukasin Nisavic | Novi Sad, Serbia | $5.00 |
| Vlade Rajevic | Unknown | $5.00 |
| Milan Petrovic | Unknown | $5.00 |
| Tanja Spasojevic | Unknown | $5.00 |
| Jovan Ilic | Unknown | $5.00 |
| Goran Zivojinovic | Unknown | $5.00 |
| Charalampos Vryonis | Thessaloniki, Greece | $5.00 |
| Miroslav Tomic | Unknown | $5.00 |
| Vukasin Radisavljevic | Unknown | $5.00 |
| Milan Marinkovic | Unknown | $5.00 |
| Black Mountain | FALSE | $5.00 |
| Aleksandar Kaludjerovic | Unknown | $5.00 |
| Pero Novevski | Unknown | $5.00 |
| Aleksandar Kotnik | Ajdovscina, Slovenia | $5.00 |
| Zoran Popic | Unknown | $5.00 |
| Dusan Stankovic | Unknown | $5.00 |
| Sasa Prentovic | Vrsac, Serbia | $5.00 |
| Niko Koselj | Unknown | $5.00 |
| Bogdan Vujanovic | Unknown | $5.00 |
| Mirko Milicic | Igalo, Montenegro | $5.00 |
| Goran Milicic | Unknown | $5.00 |
| Zoran Lazarevic | Belgrade, Serbia | $5.00 |
| Ivan Djordjevic | Unknown | $5.00 |
| Leo Hiti | Unknown | $5.00 |
| Jakov Bozovic | Pforzheim, Germany | $5.00 |
| Ivan Sibinovic | Unknown | $5.00 |
| Baclija Dejan | Subotica, Serbia | $5.00 |
| Ana Lomigora | Unknown | $5.00 |
| Igor Cvijanovic | Munchen, Germany | $5.00 |
| Vlado Purkovic | Belgrade, Serbia | $5.00 |
| Srdjan Trajkovic | Unknown | $5.00 |
| Zoran Pajic | Gradiska, Bosnia and Herzegovina | $5.00 |
| Dragan Prsic | Unknown | $5.00 |
| Irena Rakita | Belgrade, Serbia | $5.00 |
| Edin Mujezinovic | Belgrade, Serbia | $4.92 |
| Mihailo Petrovic | Unknown | $4.00 |
| Nemanja Bosic | Zrenjanin, Serbia | $4.00 |
| Elena Lalatovic | Unknown | $4.00 |
| Marko Gojkovic | Unknown | $4.00 |
| Pero Tomic | Vlasenica, Bosnia and Herzegovina | $4.00 |
| Nemanja Granulic | Unknown | $3.60 |
| Marija Bojovic | Unknown | $3.30 |
| Iveza | Unknown | $3.00 |
| Ana Jovanovic | Unknown | $3.00 |
| Danilo Mijovic | Unknown | $3.00 |
| Rasa Ristovic | Unknown | $3.00 |
| Milorad Colic | Unknown | $3.00 |
| Filip Trifunovic | Unknown | $3.00 |
| Mladen Bickeji | Vrbas, Serbia | $3.00 |
| Milovan Bekic | Unknown | $3.00 |
| Milan Bojic | Unknown | $3.00 |
| Marko Milojkovic | Unknown | $3.00 |
| Nikola Celebic | Unknown | $3.00 |
| Gavrilo Camber | Unknown | $3.00 |
| Marko Filimonovic | Belgrade, Serbia | $3.00 |
| Milan Jeremic | Unknown | $3.00 |
| Luka Raznatovic | Unknown | $3.00 |
| Nikola Maricic | Unknown | $3.00 |
| Dusan Mikanovic | Unknown | $3.00 |
| Milenko Stojkovic | Unknown | $3.00 |
| Nadja Jasmina Jokic | Unknown | $2.50 |
| Zlatibor Radovanovic | Svilajnac, Serbia | $2.21 |
| Jovana Savicevic | Unknown | $2.00 |
| Luka Stanar | Unknown | $2.00 |
| Sadat Ledinic | Wuppertal, Germany | $2.00 |
| Janko Panajotovic | Unknown | $2.00 |
| Eriq Rivera | Unknown | $2.00 |
| Vladimir Zlatanovic | Belgrade, Serbia | $2.00 |
| Bozidar Djurkovic | Unknown | $2.00 |
| Precisegrooves | Unknown | $2.00 |
| Dusan Kovacevic | Unknown | $2.00 |
| Vladica Antic | Unknown | $2.00 |
| Sasa Pejkic | Obrenovac, Serbia | $2.00 |
| Mladen Gabic | Unknown | $2.00 |
| Bojan Mihajlovic | Unknown | $2.00 |
| Dimitrije Grbo | Unknown | $2.00 |
| Agencija Kvadrat | Obrenovac, Serbia | $2.00 |
| Ivan Tomovic | Unknown | $2.00 |
| Dragan Cvetkovic | Unknown | $2.00 |
| Milos Andric | Unknown | $1.50 |
| Mirko Mrdja | Unknown | $1.00 |
| Bojan Milicevic | Velika Plana, Serbia | $1.00 |
| Aleksandar Djokic | Pozarevac, Serbia | $1.00 |
| Ljubomir Buinjac | Unknown | $1.00 |
| Predrag Agatonovic | Unknown | $1.00 |
| David Gostnicar | Unknown | $1.00 |
| Risto Sijak | Unknown | $1.00 |
| | | |